Windows Elapsed Running Time 1.6.0
Description
This is a small utility that shows the time elapsed since Windows was started. Its compact interface takes up very little desktop space, so you can have the uptime always visible using the always on top option. It can show also the elapsed days/hours in the taskbar icon.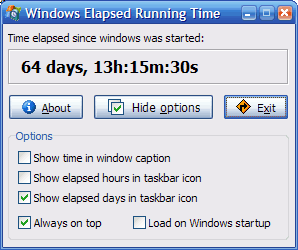 Download
What's new
Version 1.6.0
The application window now snaps to the edges of the screen.
The window position is adjusted when showing the options so it doesn't exceed the screen edges.
When the application is alredy runnning launching a new copy will activate the existing copy instead.
Some other minor changes and fixes.
Awards